Callebaut Ruby RB2 Chocolate Callets 32.8%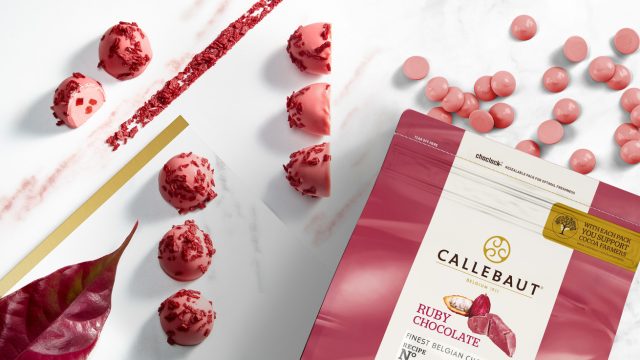 Ruby is the new chocolate taste that has distinctive, intense fruitiness and fresh sour notes.
Ruby RB2 from Callebaut has a mission to unleash sparks and take RB2 chocolate indulgence to a new standard. The unique color and taste of Ruby RB2 are originally from the ruby cocoa bean and nature at its most indulgence. The impressive part is there are no artificial colorants or berry-like flavorings.
It also comes with a remarkable color, which is a ruby color. Ruby is a gift of Mother Nature, dedicated to artisans.
Research shows that ruby resonates strongly with a new generation of consumers – mainly millennials (18–35 years old) who balance a healthy lifestyle with the quest for extreme pleasure.
Bean origin
Ruby chocolate contains no berries, berry flavor or colorings. Ruby cocoa beans grow under unique climate conditions and can be found in Ecuador, Brazil or Ivory Coast.
Ruby chocolate is the biggest innovation in chocolate in 80 years. Made from the Ruby cocoa bean, it's a completely new chocolate experience.

https://www.youtube.com/watch?v=RjHYoVgXHz8
| | |
| --- | --- |
| Weight | N/A |
| Weight | 250G, 2.5KG |