House of Ingredients
2 months ago
House of Ingredients
Kuih lidah kucing 👅😼atau nama lain bagi kuih ini adalah dipanggil kuih pelangi.
Resepi kuih ini adalah paling mudah😘😄, ringkas, sedap😋😋, dan popular terutama di musim perayaan🥳🧕🏻.
Berikut adalah cara membuat kuih lidah kucing yang lembut dan renyah.
💓👍
INGREDIENTS-
Butterhouse 250
Castor sugar 175
Egg white 100
L flour 200
Corn flour 50
Emplex 1/4 tsp
mix peel 100g
Lemon flavour 1tsp
Caribe dark button 200
Coco butter replacer 20
METHOD--🧑🏻‍🍳🧑🏻‍🍳
-Sift all dry ingredients
-Beat margarine & sugar until creamy
-Add egg white,mix peel & lemon flavour
-Beat for another 5-10 minutes
-Add in shifted dry ingredient
-Beat batter until well combined
-Transfer the dough to piping bag
-Pipe batter on the lidah kucing mould
-Bake with 150C for 10-15 minutes
-Prepare water(40-45C) for melting dark/white chocolate
-Add in cocoa butter replacer
-Dip half of the cookie with dark chocolate & deco with white chocolate
-Enjoy!
#houseofingredients
#Hoi
#Hoibi
#KuihRaya
#KuihRaya2021
#Ramadan
#EidMubarak
#Eid
#lidahkuching
#KuihRayaLidahKuching
#
--------------------------
Get your ingredients now at Sri Damansara House of Ingredients branch.
Online Service are Available Can order through (DM) FACEBOOK (House of Ingredients) or WhatsApp to 014-308 8820
2 months ago
🌙 LAZADA 5.5 RAIKAN RAYA SALE🌙
Special Raya Sale for Lazada customer 🌙
Just a few clicks is all it takes!
Come and join us on 5th May 2021(Wednesday)
-
CLICK THE LINK BELOW FOR MORE PROMO ITEMS!
https://t.co/OoTD9SqHra...
-
#HouseofIngredients #HOI #BandarSriDamansara #Lazada https://t.co/pG7kjRykNu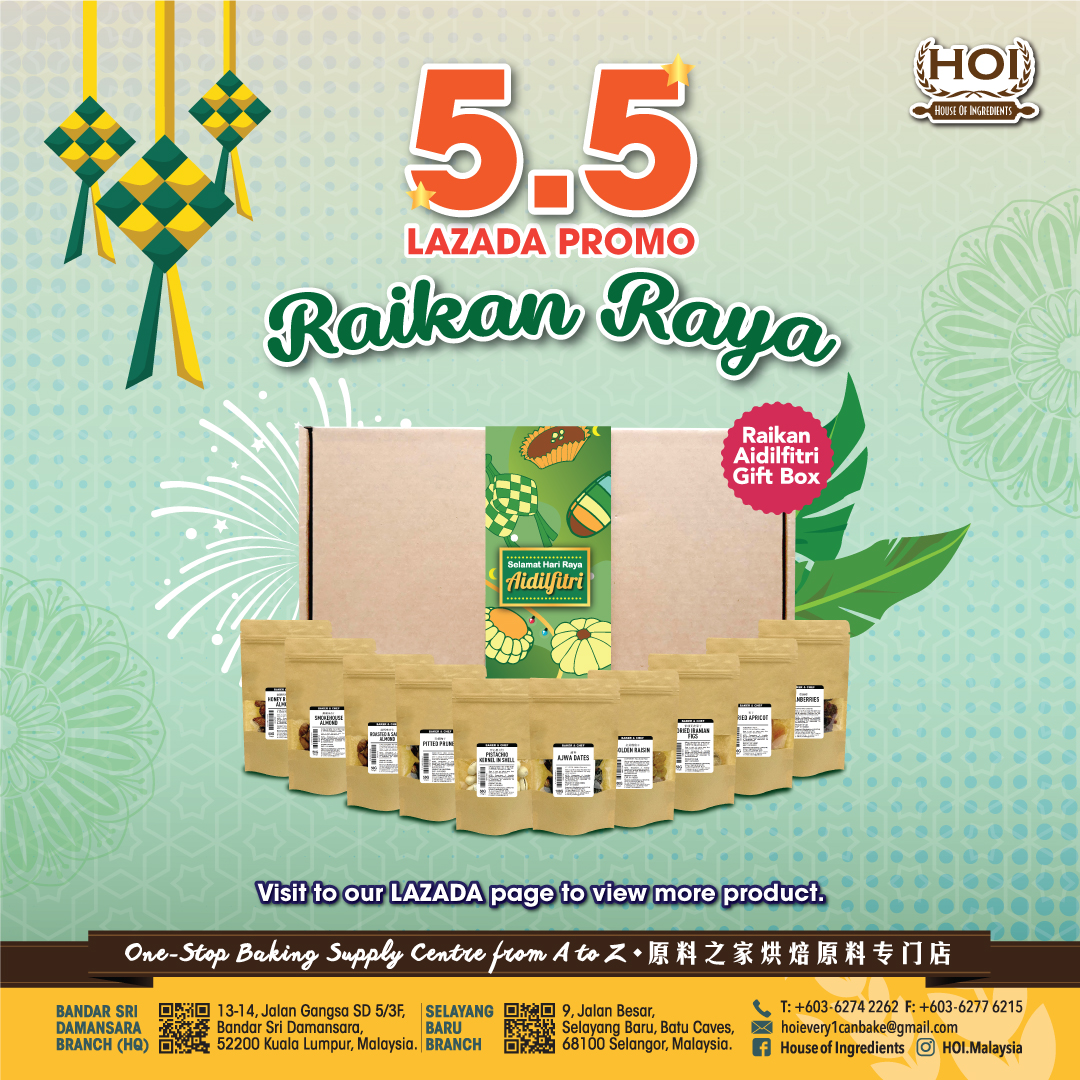 2 months ago
🎁SAHUR KAW KAW BOX!🎁
Get your Sahur Kaw Kaw Box NOW!
-
CLICK THE LINK BELOW
A)Chocolate Almond
https://t.co/9Qlrour7GG
B)Chocolate Hazelnut
https://t.co/hw3bXMhBqB https://t.co/qV5fgFIXgD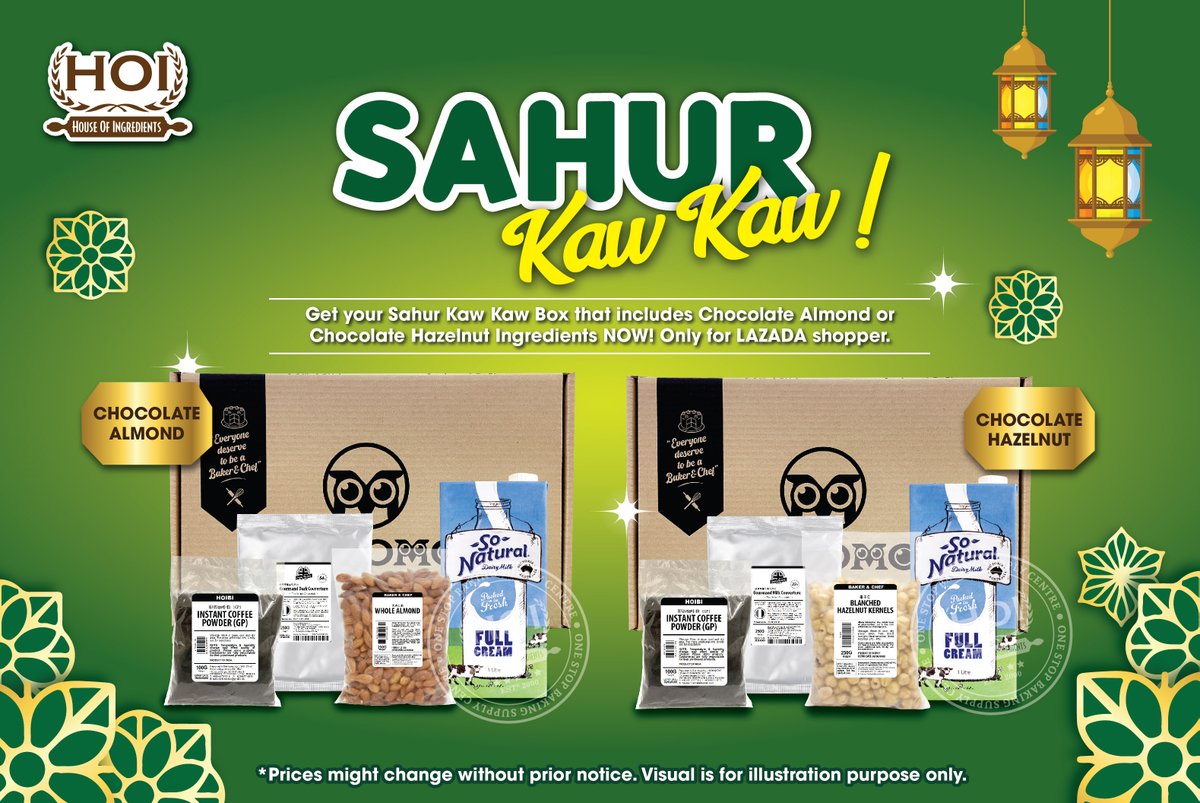 2 months ago
🎁RAIKAN AIDILFITRI GIFT BOX!🎁
Let's celebrate this year Raya with Raikan Aidilfitri Gift Box. Give this as a present to your love one. This year Raya will be more lively if we share the happiness.
Come and buy NOW! ONLY at LAZADA
-
CLICK THE LINK BELOW
https://t.co/X2lseMkFi9 https://t.co/m1Q3QMqZ8u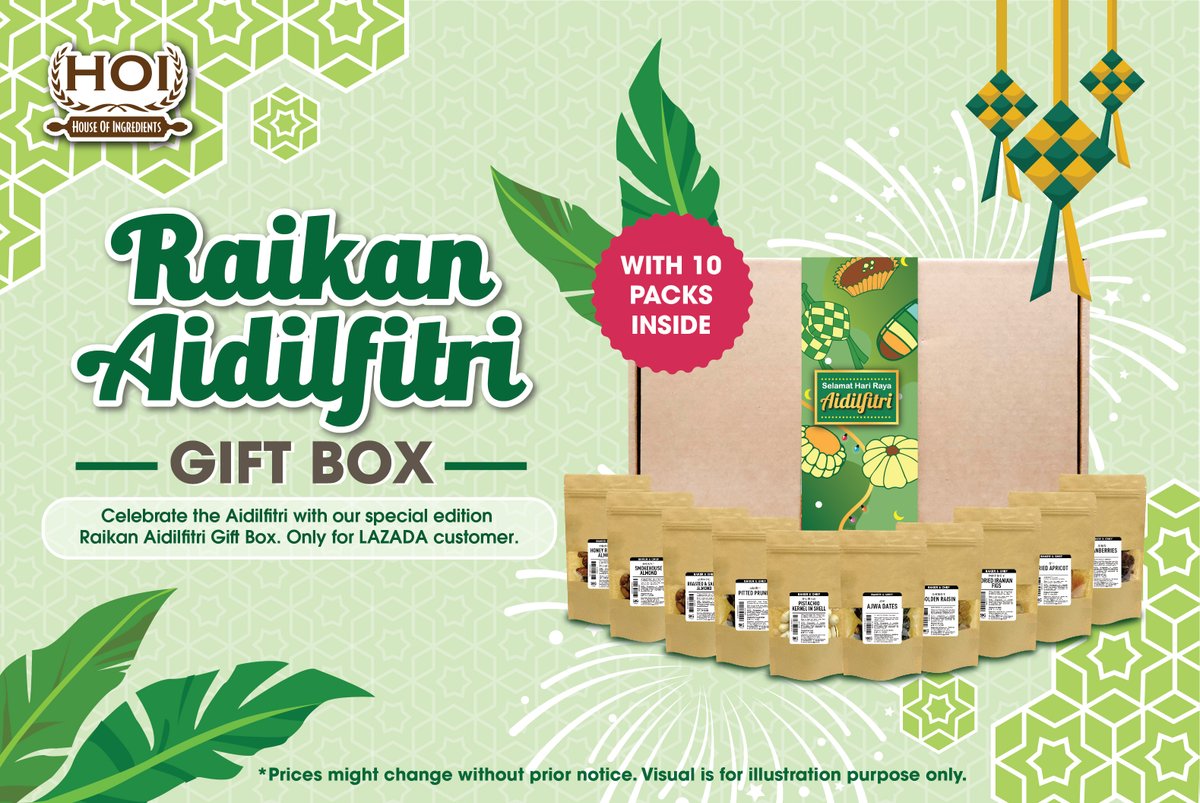 2 months ago
Dear Our Valued Customers,
We're OPEN as usual for Sri Damansara and Selayang Baru Branch during Labour Day on 1st May 2021
-
⏰Business Hours⏰
Sri Damansara:
9.00am to 6pm (Mon-Sat)
9.00am to 2pm (Sun)
-
Selayang Baru:
8.30am to 6.00pm (Mon-Sat)
9.00am to 2pm (Sun)
-
#OPEN https://t.co/LI2oRLnQOS